When the Hellcat came out, I was intrigued. I knew I had to do a Springfield Hellcat Review. What manner of engineering voodoo can stack so many rounds into a subcompact pistol? I bought one, and darned if I can figure it out, maybe magic.
I own the Glock 43. I've shot the Sig P365. The Springfield beats them both, handily, and that comes from a lifelong Glock fanboy.
The Hellcat is marginally larger than the Glock 43, but offers double the ammo capacity with their 13-round mag. Double.
Everyone thought Sig broke the mold with the P365. Tiny pistol, industry-leading capacity with a 10-round mag and enjoyed top honors for about a year. It's a good carry piece. Springfield just out-engineered them. 
Review –
Trigger: Breaks at 5.5 pounds. A little crisper than a Glock in my opinion, but let's be real here. If you want a great trigger, you shoot a 1911.
Sights: I like the U-notch rear sight. Initially, I was unsure about it, but it grew on me. Remember, with a pistol, you concentrate on the front sight… the Hellcat's is tritium, so that's good.
Accuracy: Shoots as tight as any Glock I own, again, this isn't a target pistol.
Function: Always went "bang" when I pulled the trigger. No failures to feed or extract the cheap range ammo I've blasted through.
Build: Engineered in the USA… built in Croatia. It's a solid shooter. Of note, the internals, especially the rails,  are beefier than most pistols. I don't know if that's especially important, but it's one of the differentiators in yet another striker fired offering.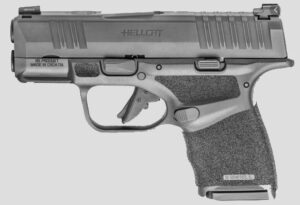 The only downside I had is the magazine, especially the 13-round mag, feels a little loose when seated in the magazine well. It doesn't change accuracy. I don't notice it when shooting, but it feels sloppy when otherwise handling.
The real question, do I recommend buying one? Well, let me put it this way. I'm selling my second Glock 19 and buying another Hellcat for my wife.
For more blogs about hunting and the the outdoor musings, click Here!  
You can also give us a call anytime or check out our website and other social media sites.